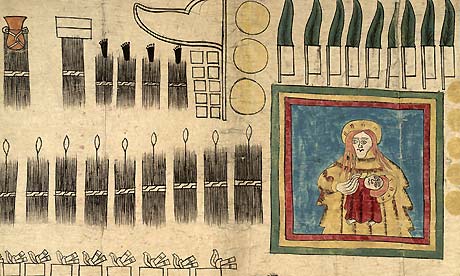 Huexotzinco Codex, 1531, documenting in pictographic language part of the testimony in a legal case against representatives of the colonial government in Mexico, ten years after the Spanish conquest in 1521. Photograph: Library of Congress
The Guardian has an article today
on the forthcoming World Digital Library. I quote:
Four years after Washington's Librarian of Congress, Dr James Billington, suggested the idea, curators have accomplished the first stage in the construction of a truly global library. With all material free of charge on a website translated into seven different languages, the WDL is expected to be an unrivalled educational tool.

"We hope that this brings cultures together, that it promotes better understanding between those cultures and that it provides educational uses for a world in which reading and scholarship have to face competition from 24/7 media," said John Van Oudenaren, the director of the project.